Gyrocopters Flash Pro Max | 500 W e-Scooter for adults | Dual Hydraulic Suspension | Speed 30km | Range up to 40 Km | App-integrated Smart Electric Scooter
Regular price
Sale
$1,339.99
Sale price
$599.99
Couldn't load pickup availability
Power and Range: Experience the versatility of the Gyrocopters Electric Scooter, equipped with a powerful 500W brushless motor. This impressive motor provides four-speed modes, catering to different riding preferences. Cruise comfortably in low-speed mode, reaching 15km/h speeds, perfect for a relaxed and leisurely ride. For those seeking an exciting rush, switch to sport mode and reach thrilling speeds up to 30km/h. The Gyrocopters Flash Pro Max E-scooter for adults boasts a high-capacity 37V 10AH battery, providing an impressive travel range of up to 40 km. With an efficient Lithium-ion battery, this e-scooter makes it an excellent option for daily commutes, providing reliable and consistent performance.

Dual Hydraulic Suspension: Experience the exceptional benefits of a top-notch suspension system in the Gyrocopters Flash Pro Max Electric Scooter. This best-selling model has a dual hydraulic front suspension, which effectively absorbs impacts from minor bumps and provides relief in common scenarios, enhancing your overall riding comfort.

10-inch Inner Suspension Tires: Designed to provide both comfort and stability, the 10-inch tires on the Gyrocopters Flash Pro Max e-scooter for adults deliver an enjoyable ride experience. These long-lasting tires boast 20% higher elasticity than ordinary rubber, ensuring excellent stability and resistance against ozone, acid rain, and ultraviolet light. Their durability makes them ideal for diverse environmental conditions.

One-step Folding Mechanism: Effortlessly transport the Gyrocopters e-scooter for adults with its convenient one-step folding mechanism. This feature ensures high portability, allowing you to fold and carry the e-scooter in just three seconds, making it an ideal choice for commuters.

Multifunctional Display: Navigate through various riding modes effortlessly with the Gyrocopters Flash Pro Max E-scooter's intuitive LED dashboard. From the dashboard, easily access eco, normal, sports, and walk modes to tailor your riding experience to your preferences. In addition to mode selection, the LED display provides valuable information such as maintenance signals, power levels, Bluetooth connectivity status, and more. This comprehensive user interface in e-ride ensures that you always stay informed and in control of your electric scooter.

Features: The Gyrocopters Flash Pro Max e-scooter has a front-facing LED headlight for enhanced safety and visibility. Illuminate your path and increase your visibility to others around you, providing an added layer of security. Additionally, the back fender of e-scooter features a warning light that activates when the brake is engaged.

App Integrated User Interface: Enjoy advanced control options through the MiniRobot app, integrated with the Gyrocopters Flash Pro Max Electric scooter. For iOS and Android users, the app offers features such as a safety lock to prevent theft, a selection of ride modes and speeds, and access to maintenance signals, power levels, and Bluetooth connectivity.

What's in the Box: 1 x Flash Pro Max Electric Scooter, 1 x Charger, 1 x Safety Manual
Before you first experience your Gyrocopters Flash  Pro Max Electric Scooter, please read the USER MANUAL thoroughly and learn the basics to ensure your safety and the safety of others. It is highly recommended that your initial Gyrocopters experience be with a spotter who can assist you in centering your balance. The warranty does not cover normal wear and tear, flat tires or any other physical damage or water/liquid damage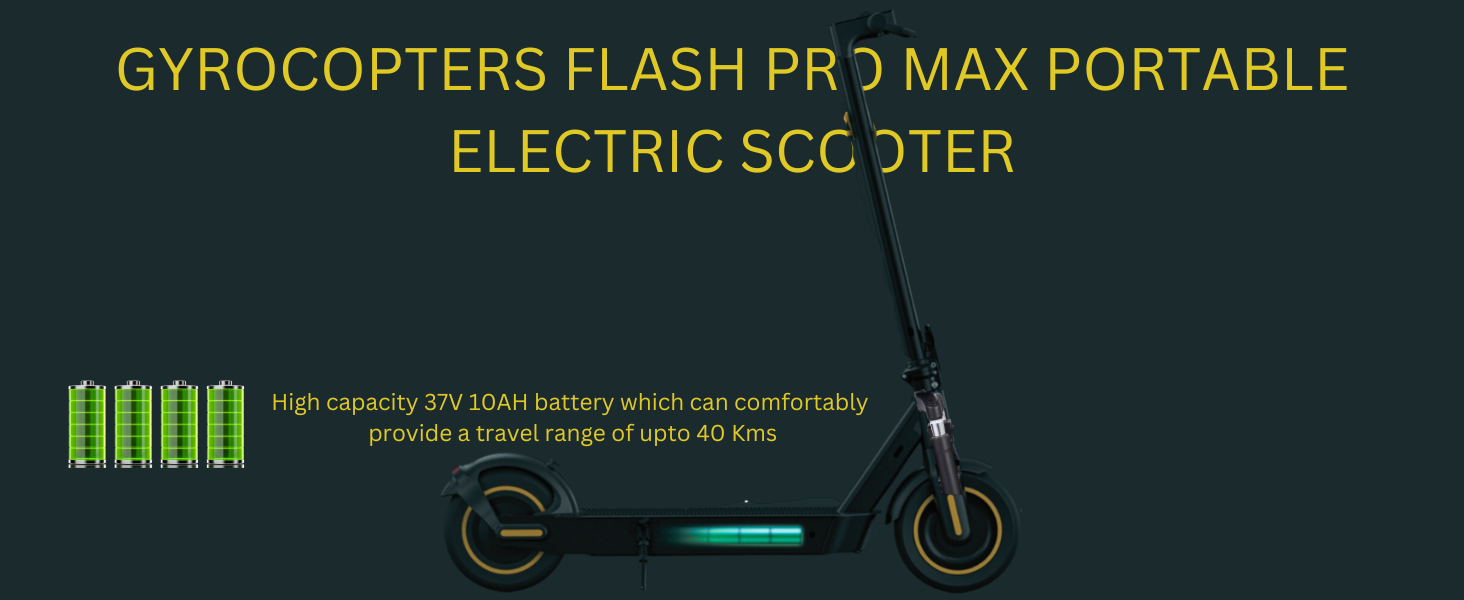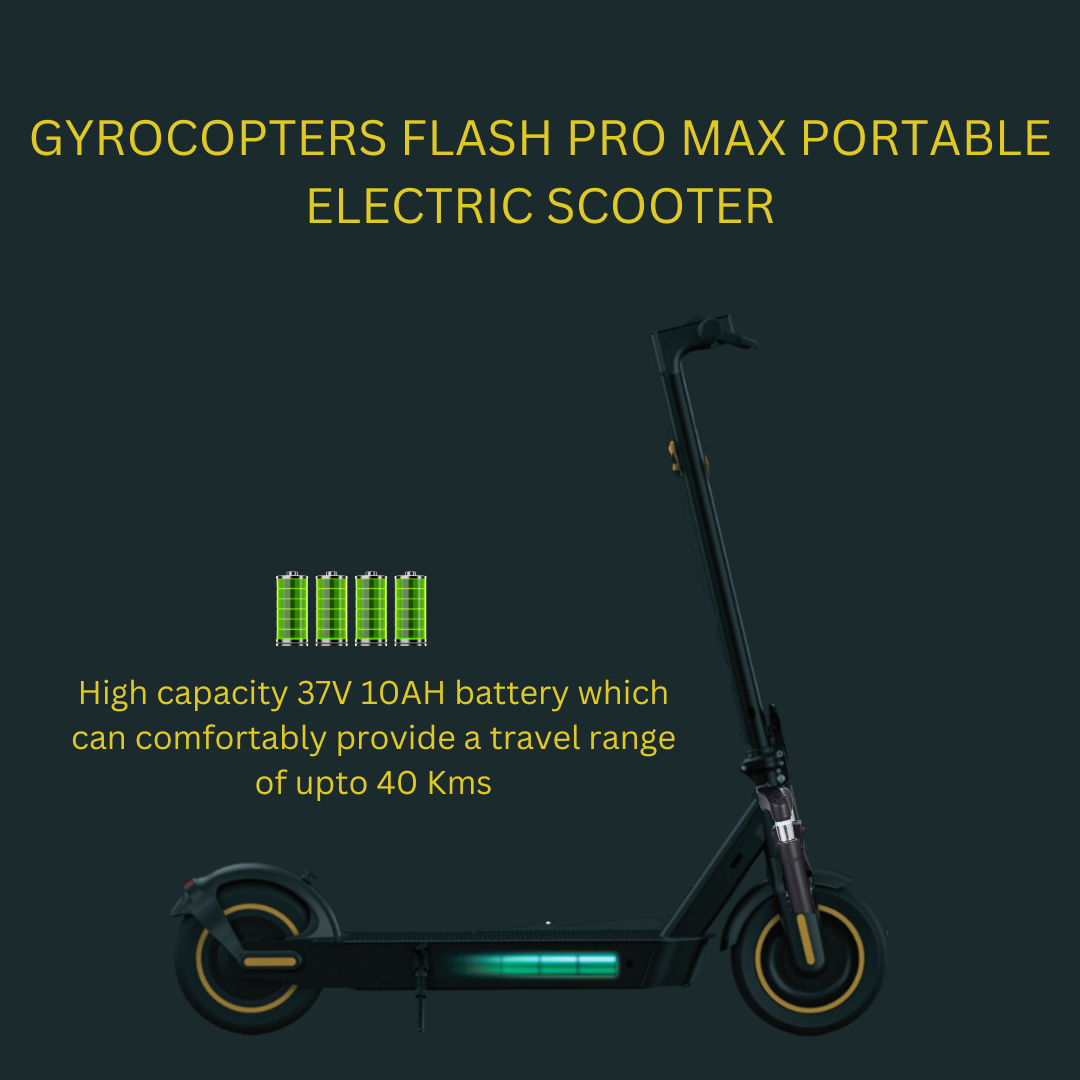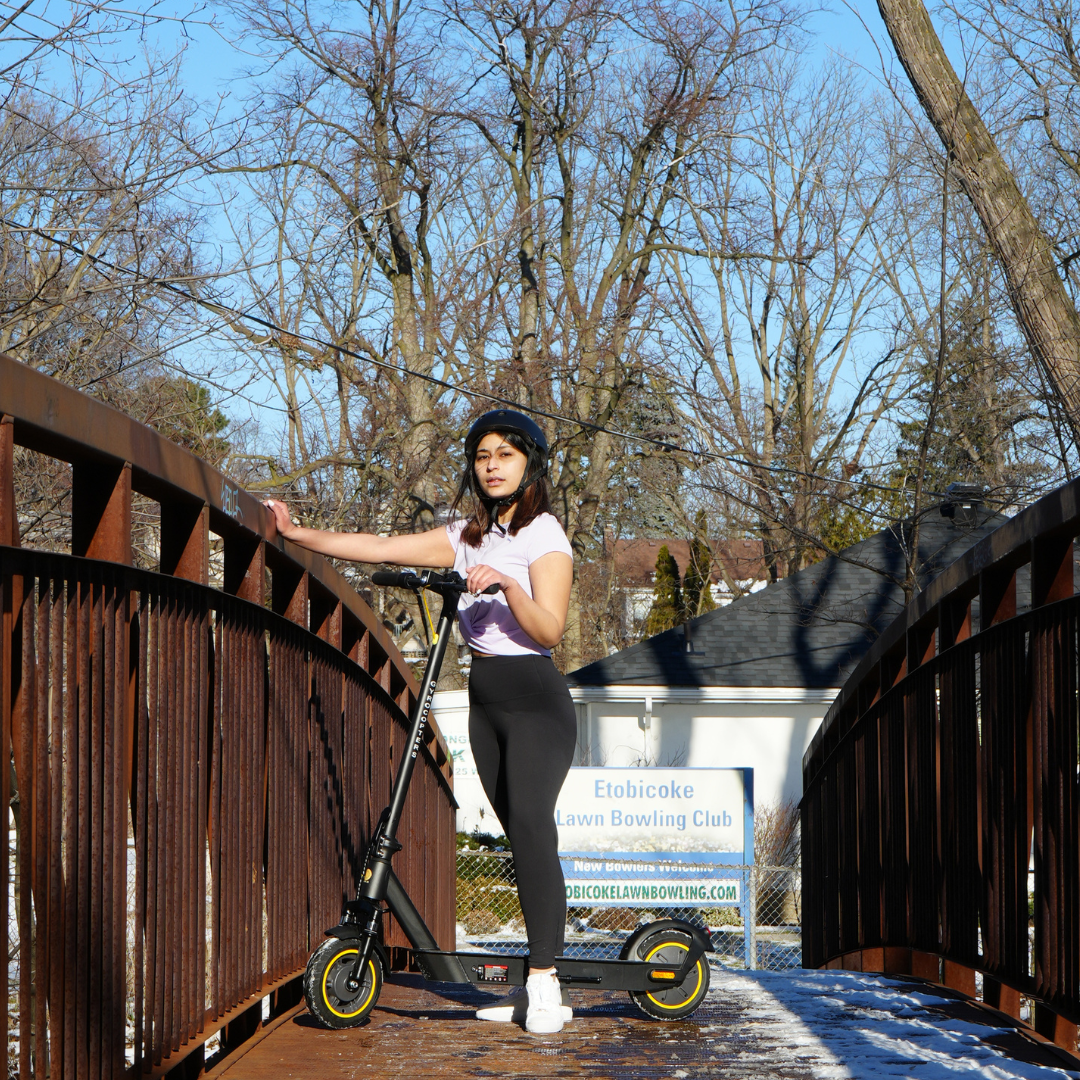 Is it airless tires

Gyrocopters Flash Pro max has solid tyres.

Is the seat you sell compatible with the pro max scooter?

Seat is not compaitable with Pro max

What replacement charger can I buy if I have lost mine

Charger can be purchased from this link: 
https://www.imgadgets.com/products/gyrocopter-energy-efficient-smart-power-adapter-charger-for-hoverboards?variant=29957798690861

Is the following product compatible with the Flash Pro Max? https://www.imgadgets.com/products/gyrocopters-electric-scooter-waterproof-silicone-protective-cover-dashboard-shell?variant=40991208767653

Yes, it is comapaitbale.