Gyrocopters Frost Electric City Bike | 350 W Motor | 14-inch Tires | Speed up to 25kmh |Battery Range up to 30km | Dual Shocks | Folding Compact ebike
Regular price
Sale
$799.99
Sale price
$579.99
Couldn't load pickup availability
Gyrocopters Frost E-Bike is one of a kind that offers a one-step folding bike. Its simple design makes this city electric bike easily portable to store in your vehicle for various travel adventures.
Strong Built and Compact: Built with metal frame, this compact bike is easy to maneuver and fun to ride. An electric bike you can fold! Whether it's storing your Gyrocopters Frost under your work desk or a closet in your home, it's simple with Frost's easy folding mechanism.

Power and Speed: 350W highspeed motor offers the highest speed of up to 25 km/h. With 3-speed mode, you can choose to ride your Frost e-bike at a speed ranging from up to 15km/h, 20 km/h and 25 km/h. A rechargeable Lithium-ion battery provides a range up to 30 km when riders use pedal assist. Frost Electric Bike is all set to make your daily commute faster and more cost-effective. 

Shock Absorber and Cruise Control: Gyrocopters Frost Electric Bike has a dual shock absorber that seamlessly absorbs bumps on the road. Additionally, it provides the convenience of cruise control for an effortless biking experience.
Comfort at its best: The handlebar placement fits well, as one can swiftly illuminate the headlight and rear lights. The adjustable seat and speed sensor allow riders to enjoy Gyrocopters Frost Electric Bike comfortably.   

We take care of Safety: Gyrocopters Frost Electric Bike offers smooth acceleration with super responsive dual disk brakes, speed sensor, and UL2879 approved.

Know your battery status: Gyrocopters Frost compact e-bike takes up to 3 - 4 hours to charge and comes with a battery display. 

What's in the box:

1 x Gyrocopters Frost E-bike, 1 x Charger, 1 x Safety Manual


Before you first experience your Gyrocopters Frost Electric Bike,  please read the 
USER MANUAL
 thoroughly and learn the basics to ensure your safety and the safety of others. It is highly recommended that your initial Gyrocopters experience is with a spotter who can assist you in centering your balance.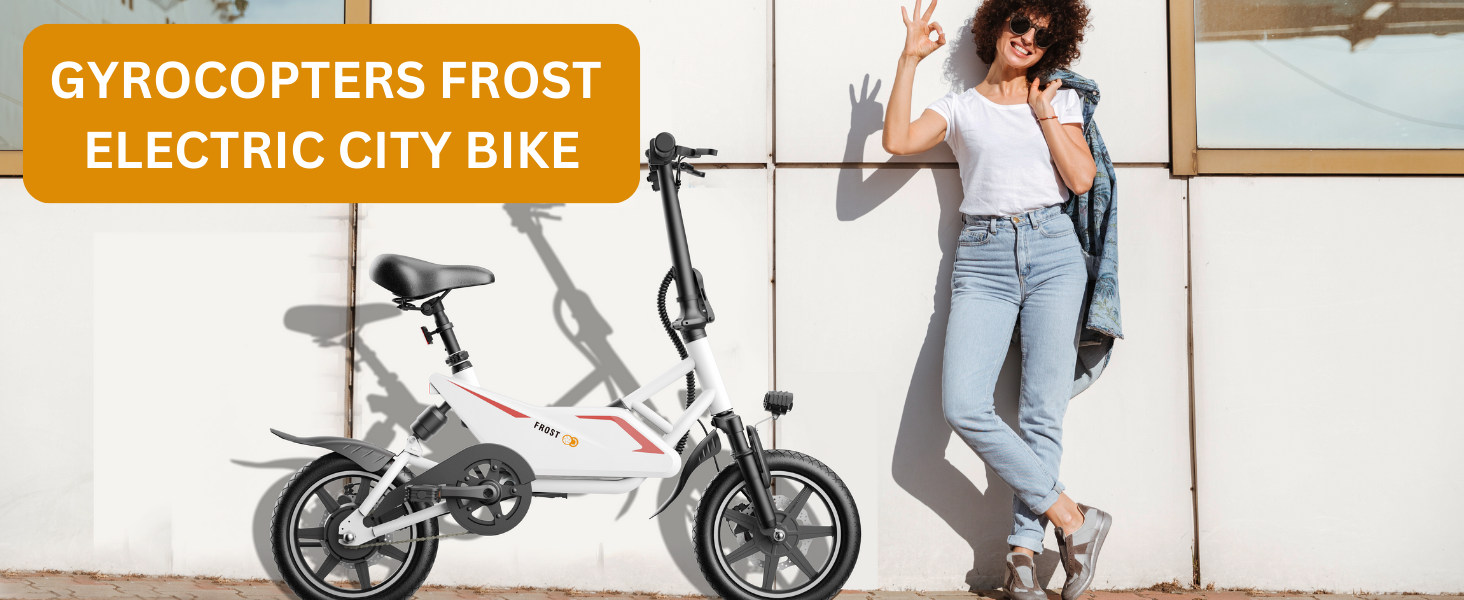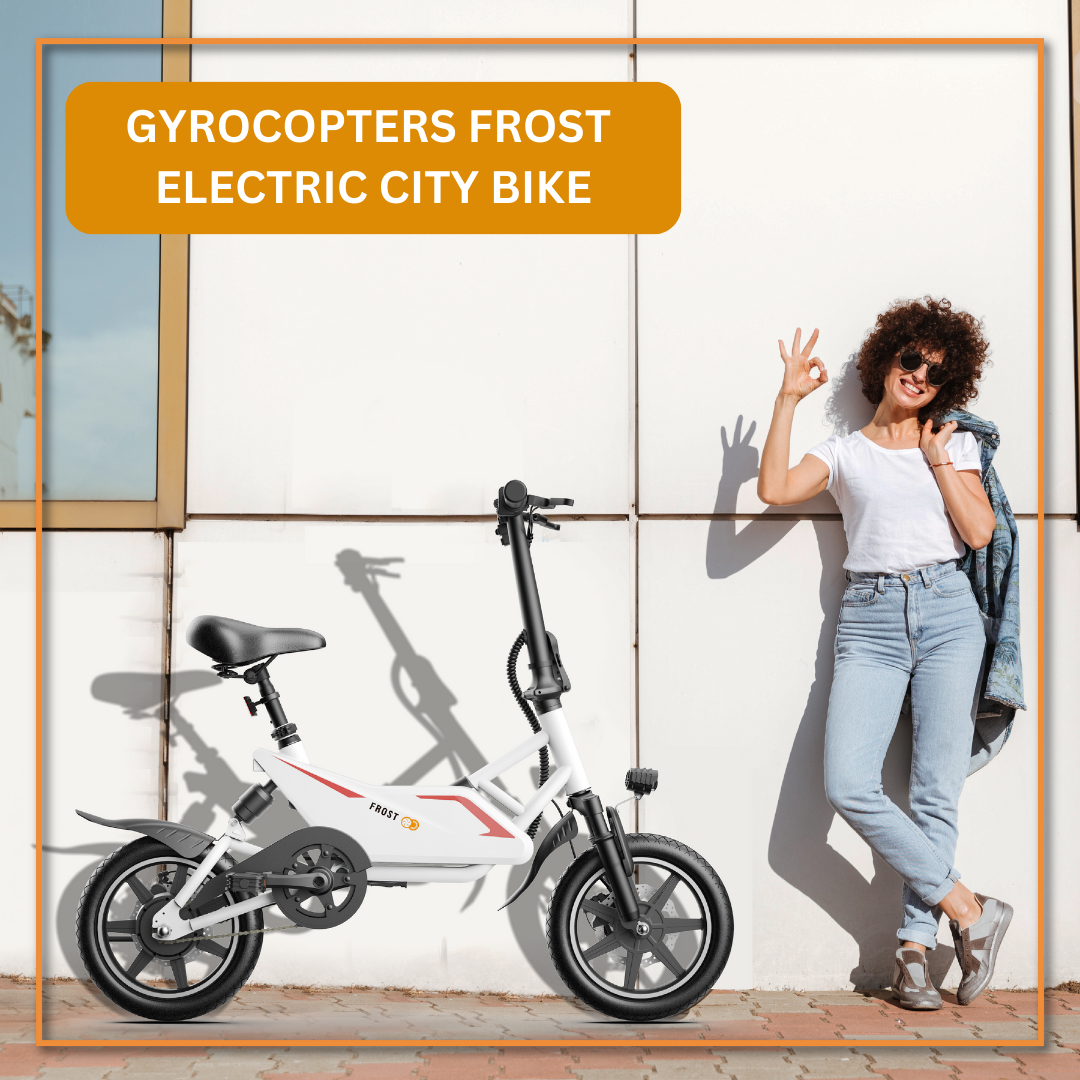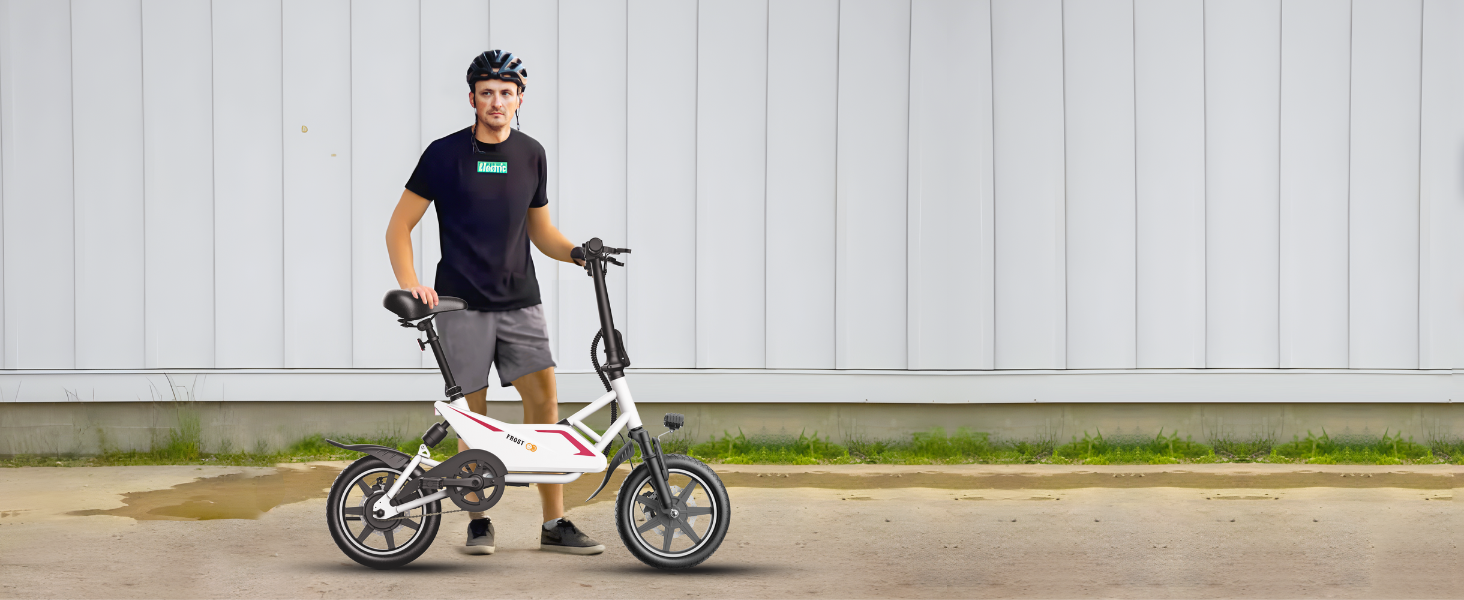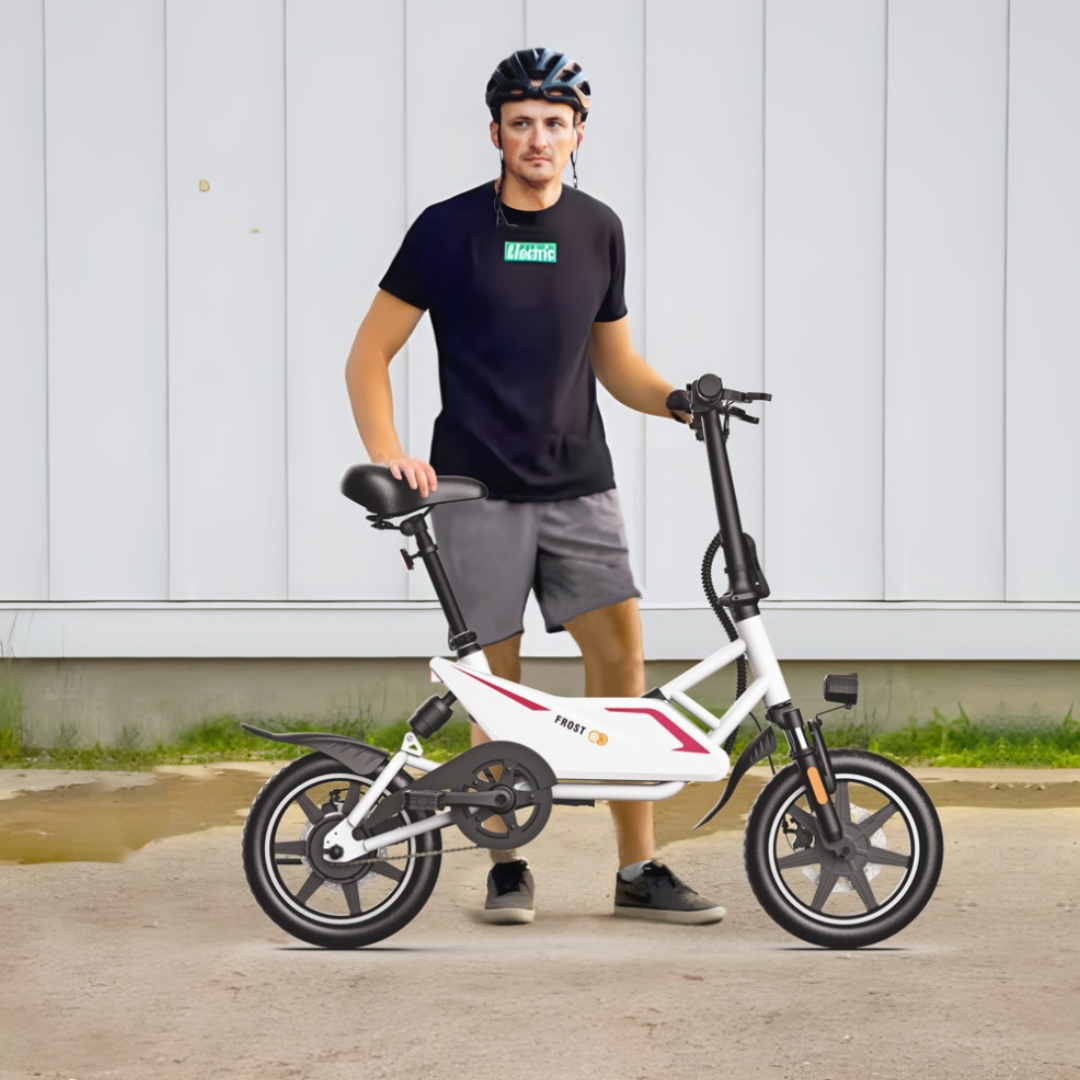 what is maximum rider weight capacity?

120 KG

Will this bike accommodate my 4'10" height?

Yes it wll

I buy one off these, i dont now how open led light

Please hold the light button for 4 seconds

Rhetorical question, available in white only? Ths

Currently Gyrocopters Frost is only avaiable in white. 

Thanks

Can I still pedal if the battery ran out?

Absolutley, you can pedal and use Gyrocopters Frost e-bike as a regualr bike.

Is there a light for night time biking?

Hello Tait, Yes, Gyrocopters Frost Electric City Bike has a light for nighttime biking. 
Thank You

What are the folded dimensions?

Hello There, The folded size for Gyrocopters Frost City Bike is: 1280mm x 220mm x 635mm.
Thank You

Do the pedals fold?

Hello! Yes, the pedals fold.

can this e-bike be used in rain or winter? thanks

Gyrocopters Frost electric bike can be used in rain and winter. 

Please be midful of salt wchih can damage metal components. 

Thanks

Hi, I would like to know if the battery is removable….and what about shipping (Ottawa)?

The battery is contained inside the bike so the bike can be waterproof. 

You will need a screwdriver to open the case and remove the battery.

Is there a speed or battery percentage meter with this!?

There is a battery LED display which will show how much battery is left. 

Thanks

what is the weight

Gyrocopters frost electric bike only weighs 55 LBS.

Thanks