Gyrocopters Plaid Electric Scooter for adults l 10 AH Range upto 35kms|20 AH Range upto 60 kms| Off- Road Tires with Dual Shocks| Speed up to 42Kmh (10AH )/45km (20AH) | 800W Motor | Smart App
Regular price
Sale
$1,800.00
Sale price
$929.99
Couldn't load pickup availability
Speed, Power & Range:
Gyrocopters Plaid Electric Scooter comes with a powerful motor of 800W and a 48V, Two Battery Options: 10AH battery and 20 AH Battery, giving the riders a speed up to 42 km (10ah) /45 km (20ah) and making the ride fun and adventurous. The range for an e-scooter is up to 35km for 10 AH and 60km for 20AH. Gyrocopters Plaid, one of the best off-road electric scooters, is designed to be a sturdy electric scooter while offering maximum performance for the e-scooter riders.
Riding Modes, Tires & Charging:
Gyrocopters Plaid e- scooter offers riders four ride modes to comfort different needs. Walking mode - max 5 km, Eco mode- max 10km, Standard mode- max 15 km, Turbo mode - max 42km(10ah) / 45 km (20ah) *unlock the speed with the App . Four modes of Plaid Electric scooters offer different speeds. The plaid e-scooter is mounted on 10 -inch air-filled tires that are made to last while offering a smooth riding experience during city rides and rough and challenging terrains. Plaid comes with two charging ports for ultra-fast charging. (needs an additional charger)
Safe Ride:
Gyrocopters Plaid electric scooter comes with dual disk brakes. The front and rare disc brakes in this off-road e-scooter ensure the rider's safety while enjoying the adventurous ride. The Plaid electric scooter's powerful dual disc brake helps the rider react swiftly to emergencies. The expansive deck of the scooter gives more space and comfort to the rider. Suspensions in Plaid electric scooters ensure that the scooter maintains stability and comfort while exploring various paths. Plaid e-scooter also comes with cruise control, giving riders easy and longer rides.
LED:
One of the highlighting features of the Plaid electric scooter is its eye-catching LED lights. The LED lights of Plaid add to the scooter's sportier and more aggressive look. LED green brake lights bring the E-scooter's and rider's maximum visibility during night rides, making it easy for other vehicles to spot the e-scooter. Additionally, the scooter offers bright white LED lights, red lights, the strobe, and indicator lights in the handlebar
and deck.
Smart & Portable :
Gyrocopters Plaid electric scooter is easy to fold and easily carried for trips and outdoor outings. The feature makes it easy for riders to store it in the car trunk and save space while not in use. Plaid has a Smart LCD, which shows the speed, mode, battery life, lights, and more.  The LCD is highly interactive, which helps the rider better understand the scooter's performance. Gyrocopters Plaid offers an APP that provides multiple feature access at a fingertip.
App:
Gyrocopters Plaid Electric scooter for adults also offers connectivity with App. With the app, you can view the scooter's parameters in real-time and set parameters. You can download the APP:
Download for Android: 

Download for Apple:


What's in the Box:

1 x Gyrocopters Plaid Electric Scooter, 1 x Charger, 1 x Safety Manual


Before riding, please read the User Manual carefully, and follow all Safety Precautions. Low temperature will affect the lubrication of moving parts inside the scooter increasing internal resistance. At the same time, in low temperatures, the discharge capacity and the capacity itself of the battery will be significantly decreased. Do not ride on icy or slippery surfaces
Before you first experience your Gyrocopters Plaid  Electric Scooter, please read the USER MANUAL thoroughly and learn the basics to ensure your safety and the safety of others. It is highly recommended that your initial Gyrocopters experience be with a spotter who can assist you in centering your balance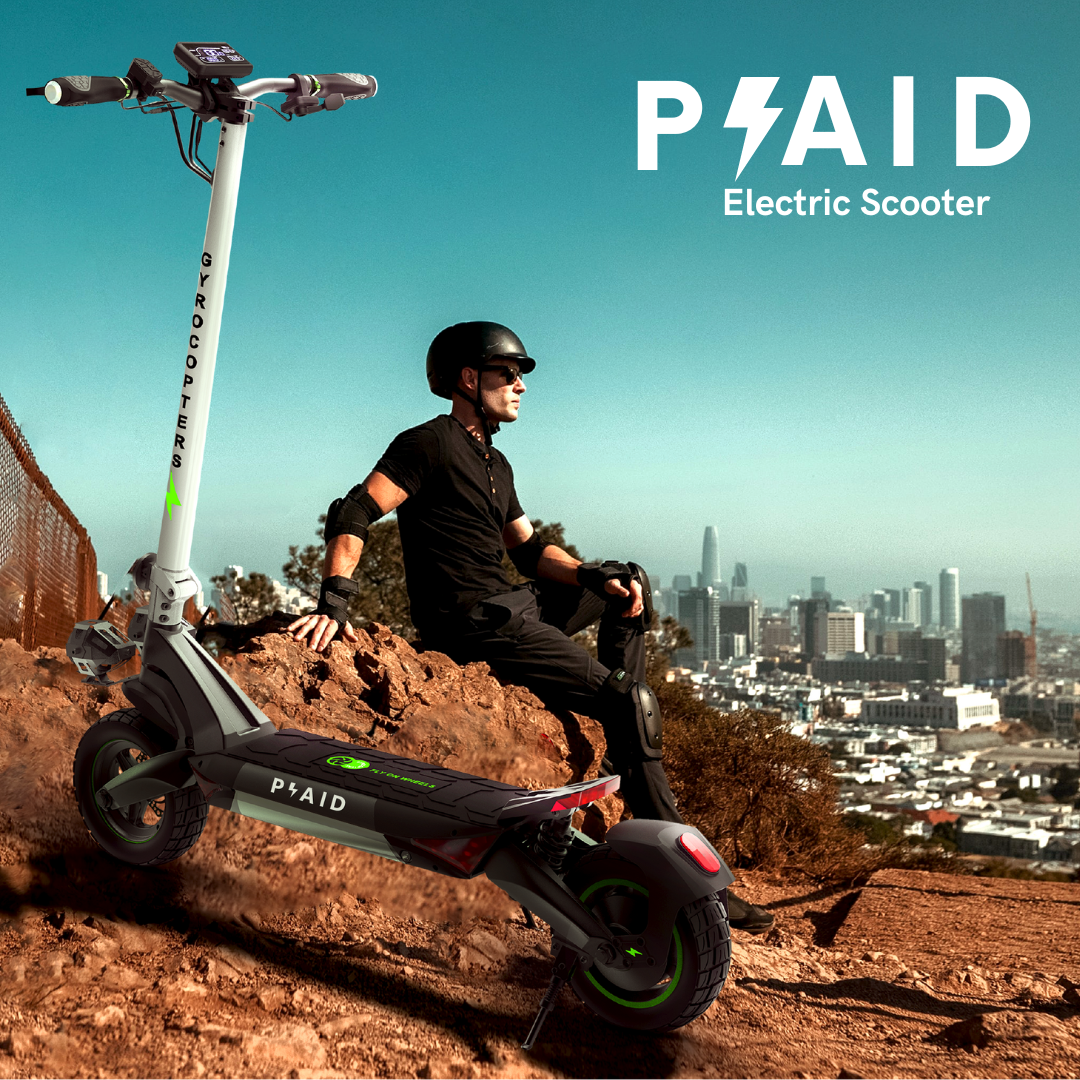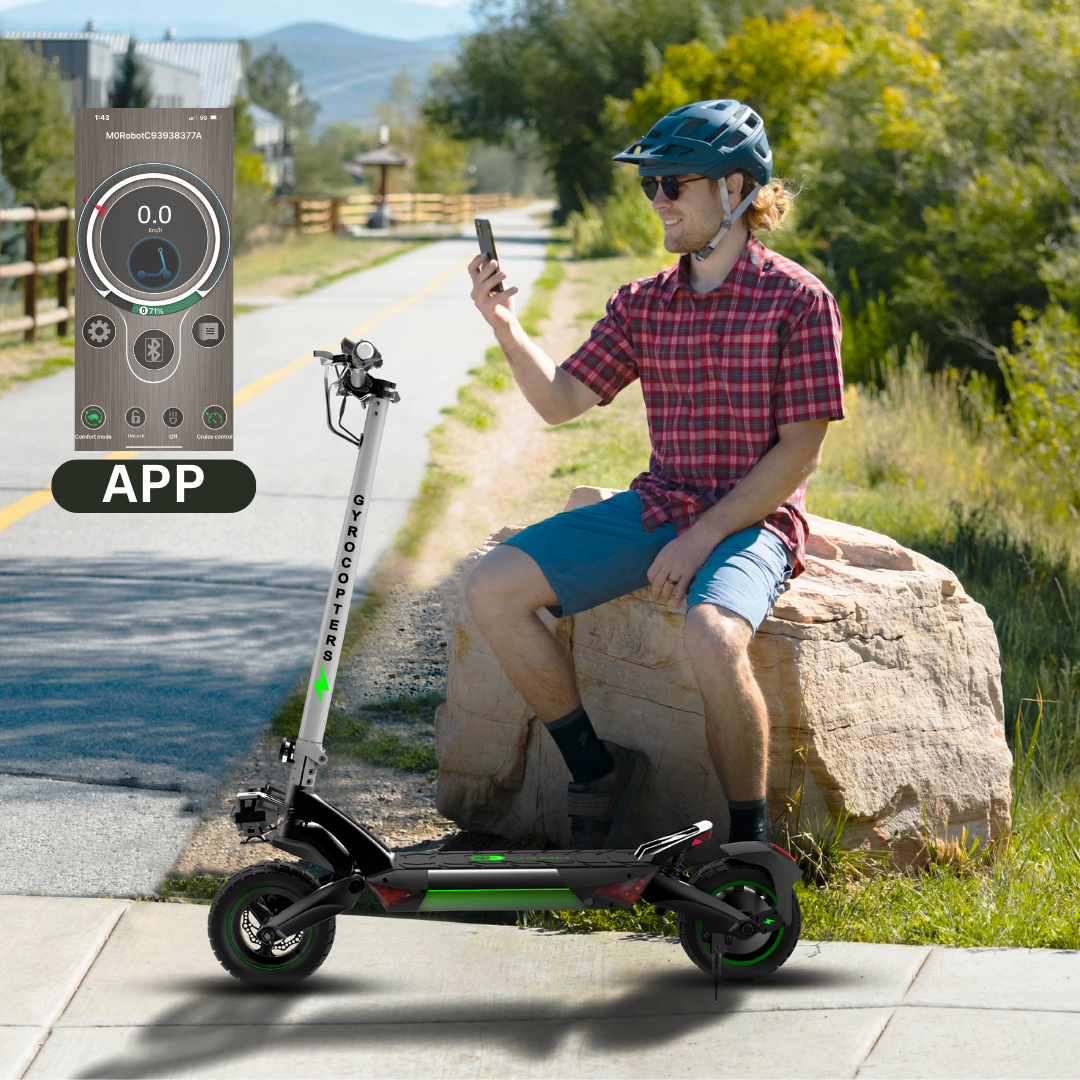 For the Gyrocopters Plaid, is it possible to upgrade to the 20 ah battery when you have a 10 ah battery?

Yes, they can be upgraded